Dress a Table Fit For Royalty!
Imagine that you've just opened an embossed invitation to a royal tea party to be held at Buckingham Palace and hosted by the Queen. Her table will be set with lovely linens made from the finest fabrics in colors and patterns that will take your breath away. When is the last time you've had a tea party? I think you're due! And when you do… there's no need to settle for anything less than a "Table Fit For Royalty!"
Take a look below at a few ideas for your own royal event.
Table Setting #1 – This round table, set for a party of six, is ready to entertain. Crisp linens, layered plates, china cups and crystal goblets from Saro lend elegance to this table. It enchants and invites everyone to come and enjoy a cup of steeped tea and a blueberry scone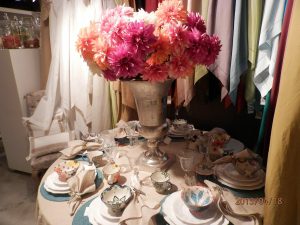 . The use of different textures keeps this table design very interesting. You can almost feel the smooth china, the nubby cotton and grooved etchings of the crystal. There should always be a decorative touch added to your table. Here it is the lush flowers in the tall vase. This is a classic beauty, perfect for your tea party.
Table Setting #2 – This table, dressed by Mackenzie Childs, pops with the touch of red on the traditional black and white checkered  pattern.  It makes for a great tea party with a dash of  whimsy added to the setting.
Notice also the wood slab table top-a very unique look! This table setting and the one in the first picture feature a lovely décor piece such as the luscious fruit pictured here with lots of greenery. Also notice the clever coordination of the pattern on the seat cushion, linens and dishes. It's just enough to create a great look.
Table Setting #3 – At this tea party by Saro, Mother Nature is the guest of honor. A trio of crisp white linen table runners are placed on the gorgeous wood table for a different twist on arranging table linens.
Two tall shiny vases hold a variety of branches and stems that provide natural textures on this table setting. When using a very neutral color scheme such as this one, you'll need lots of texture to pull it off. This table has the right stuff for your next event.
I hope these tablescapes inspired you to host and enjoy your very own tea party. And be sure to invite the Queen, I am sure she will love it!
If you're just not able to find what you're looking for, or would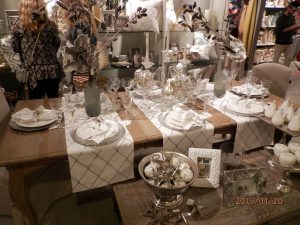 like help with creating an inviting Dining Room feel free to give us a call at 949-494-3345. We'd be happy to help!